Google Ads Complete Package
COURSE DESCRIPTION

This Google Ads course is for beginners. It is a unique, road-tested implementation and training package that has been road-tested with many business owners.  It sets up the first Google Ad (or trouble-shoots a pre-existing one). Through videos and personal coaching we then show you how to read, understand, edit and create your Google Ad campaign.
OUTCOMES

At the end of this training you will be able to
Move around the Google Ads platform
Create a Google text Ad
Start up your own Google Ad campaign
Understand the things you can do to make it better
Understand what the important measurements are
Follow the jargon
Know what settings to choose for your business
What to expect from your advertising budget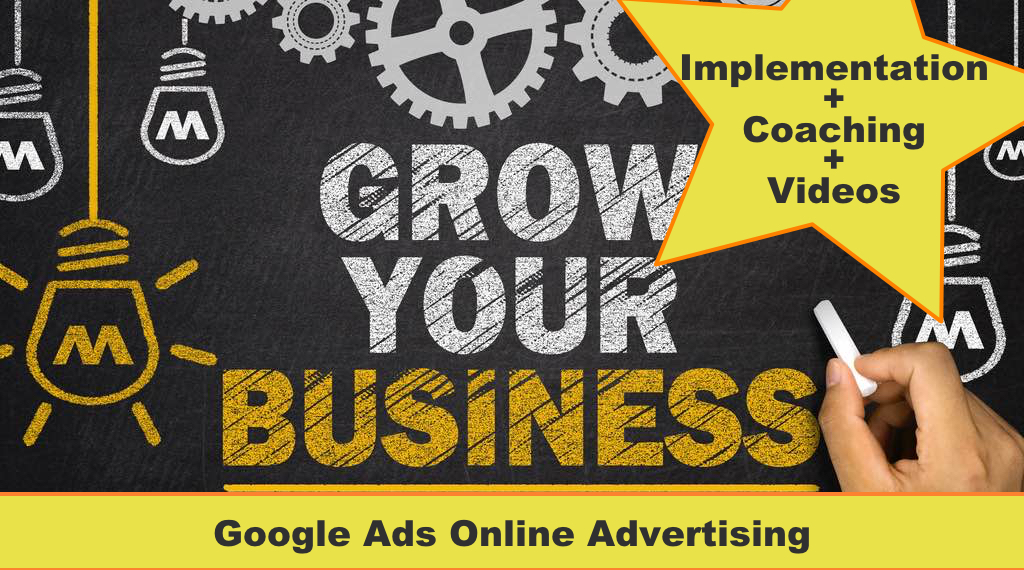 WHO IS THIS COURSE BEST SUITED TO?

This program is best for small, local businesses who want a no-fuss, easy way to get on page one of Google in your local suburb, capital city, country town, region, state or province.
If you are on a small budget and want to do-it-yourself, this course is perfect for you.
Businesses who have benefited from this course include dog-groomers, physiotherapists, driving schools, cafe suppliers, home painters and decorators, roof renovators, lawyers and accountants.
Effective Training with Implementation
Our unique and road tested training is perfect for do-it-yourself sole traders and small business owners. A blend of videos, personal coaching and implementation. The best digital marketing courses available to small businesses and sole traders.
Coaching
Ask questions
Share screens
Pro tips individualised to you
Implementation
Your training is not theoretical
We do the set up
Apply what you have learnt in your own online account
Videos
Play and pause at your own convenience
Provide step by step how-to's
Future Reference
OUR METHOD
With our easy to follow videos and personal coaching sessions this is the best package available to sole traders and small businesses.
Benefit from practical, hands-on training delivered over 6 weeks to give you plenty of time to put into practice what you learn. Self-paced learning by video, activities and quizzes, using data from your own Google Ads account. Backed up with the opportunity to ask questions in the coaching sessions.
At the end of the course you'll have created your Campaign, AdGroups, keywords, adverts and ad extensions.
This step-by-step method will give you the knowledge and confidence to create and edit your own Google Ads campaign.
Your trainer is Fiona Blinco, author of "Online Marketing for Baby Boomers; and anyone else who doesn't speak geek".
Meet your trainer and find out more about how our training is delivered here
Fiona was extremely professional and went above and beyond our sessions to assist me. I found Fiona to be highly informative and I believe we have already started seeing the benefits of Fiona's work translating into client numbers.
Fiona, I attended your workshop and found it informative and easy to follow. You have a great teaching style and I took away practical steps to put into place. Thanks again.
Fiona gives a very thorough and engaging presentation and makes digital media easier to understand. She answers all questions with knowledge and enthusiasm.
| COMPLETE PACKAGE FEATURES | VALUE |
| --- | --- |
| Assist with Google Ad Account Creation | $50 |
| Help with navigating Google accounts for correct set up | |
| Create Campaign | $200 |
| Configure Campaign Settings (eg. location, bidding and schedule) | |
| Create text advert for best results for your business | |
| Add broad and/or exact match keywords for best results for your business | |
| Monitor Adds for 2 weeks | $100 |
| Follow up any disapprovals and trouble-shoot early implementation issues | |
| Tweak ad and keywords based on first week's results | |
| Trouble-shoot Smart Ads | $100 |
| Provide explanation for previous unsuccessful Smart Ads | |
| Make move to Expert Mode | |
| One hour one-on-one consultation | $150 |
| One hour of phone, zoom or email support | |
| Advise on future direction for optimisation of campaign, advert and keywords | |
| Exclusive Step-by-Step Training Videos | $97 |
| Navigating the Dashboard | |
| Edit and Create Advert | |
| Create Campaign | |
| Ads not working | |
| Different Types of Ads | |
| SEO vs Ads | |
| Are Google Ads right for you? | |
| TOTAL PACKAGE VALUE | $697 |
Enquire before you buy...
Google Ads Videos Only
Access to step-by-step training videos

100% online

Assist with Google Ad creation

Create campaign and advert

Add broad and/or exact match keywords

Monitor advert for 2 weeks

Access to live online group coaching and Q&A sessions
Google Ads Complete Package
Value $697
Access to step-by-step training videos

Mix of zoom, phone, email and videos

Assist with Google Ad creation

Create campaign and advert

Add broad and/or exact match keywords

Monitor advert for 2 weeks

Access to live online group coaching and Q&A sessions
Prices are given in Australian Dollars. Plus 10% GST. Please contact us if you would like to purchase a course and you are not an Australian business. We can invoice you separately without the GST.