Unique, Road-Tested and Effective Training
Our unique and road tested training is perfect for do-it-yourself sole traders and small business owners. With a blend of videos, personal coaching sessions and actual implementation as we go,  we offer the best digital marketing learning packages available to small businesses in Australia.
Unique
There are many online video tutorials and articles to teach you how to do digital marketing. What makes our training unique is that we offer
real-time, personal coaching
practical, hands-on tasks
we implement as we go
Real time personal coaching
We know the learning process will bring up questions for you that you want answered by a real human being in real time. Our online coaching and Q&A sessions, via video call (zoom), allow you to
Ask questions
Share your screen so that we can see what you are seeing
See what other businesses are doing and in doing so, learn from peers in a similar situation
Allow you to learn in the comfort and convenience of your own home
Get pro tips to not only learn

how

to do something, but

why

some things are strategically better or more cost effective than other things.
Practice and learn what you need to know
We don't usually start at the beginning with the learning, as often the beginning, in digital marketing, is the hardest and most boring part. It's all about the settings and the tick boxes. It's usually stuff you don't have to do very often and frequently doesn't make a lot of sense until you've seen the other parts working. Often we'll get you to edit something before starting it from scratch. As you'll be editing you'll be practicing on the platform and becoming familiar with the technology.
Think of it like renovating a house compared with building one from the start.  If you've never fixed a floor, painted a wall, re-decorated a room, used a hammer or know what a beam is, how would you go with building a house from the beginning?  Maybe you'd succeed but the things you learn in your renovations would sure go a long way in helping with your new build.
We implement as we go
We set up the campaign or page before we start training.  Your training is not theoretical.  You apply the training in your online account or on your website.
Step-by-step, practical training
Contact us to find out more about our practical, step-by-step training.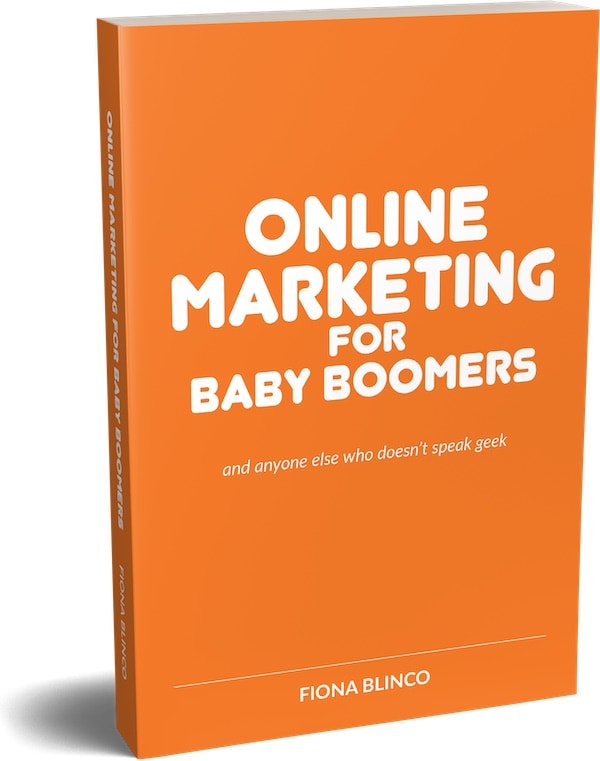 Your trainer is Fiona Blinco, author of "Online Marketing for Baby Boomers; and anyone else who doesn't speak geek".
Fiona is a Digital Marketing business advisor with the southern councils of Adelaide in South Australia. In this role she regularly hears from, and speaks with, sole traders and small business owners. She understands what challenges them in their day to day online marketing. Fiona regularly presents workshops, classes and seminars to business owners.
Fiona is a passionate supporter of the #ShopLocal campaign. Keeping customers loyal and finding new ones through a savvy online presence is what she loves to do, and share, with business owners.
DIY hints 'n tips?
Subscribe to our newsletter
Fiona is generous, wise and professional. Whatever she doesn't know she will find out…nothing is too much for her…she communicates consistently and makes sure you are happy with the content before she proceeds. I cannot speak highly enough of the quality of Fiona's work and the personable way she has of interacting. Book her, she will help you get your business online!
Fiona's delivery of my website with training package was excellent. It was easy to follow, achievable and has given me a really good guide on how to maintain my website. Her attention, assistance and passion is unsurpassable.
Website and Online Marketing Training
c
Websites
Affordable websites for small businesses, local shops, professionals, tradies and solopreneurs. 3 months support and training with every website we build. Talk to us for a site that looks good, attracts new visits, converts visitors to customers and is technically solid.
a
Online Marketing
Learn how to do-it-yourself with our popular Getting Started Packages.  Get Started with MailChimp, Google Ads or Search Engine Optimisation (SEO).
No lock in contracts, no ongoing fees.
b
Training
We present a range of seminars and workshops to inform and train businesses in creating an online presence to attract new customers.
Sign up to our newsletter to be the first to hear about our dates.